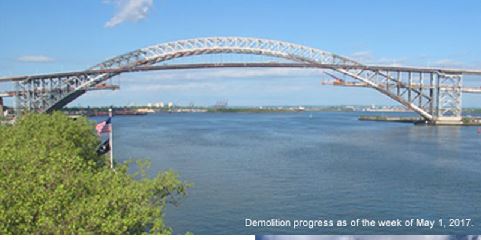 The demolition phase of the Bayonne Bridge's
existing main span deck is well underway. In fact,
the New Jersey Governor recently announced that
Navigational Clearance for all container ships up to
18,000 TEUs will be achieved by June 30, six months
ahead of the recently revised year-end schedule.
Since hundreds of feet of the older roadway have
been removed, air draft restrictions for existing
vessels traveling under the bridge have been lifted
with approval from U.S. Coast Guard Sector New
York and pilot organizations. Any class ship that has
sailed west of the bridge in the past, including ships
up to 9,800 TEUs, will now be able to pass beneath
the bridge without air draft limitations. Where the
lower deck has been removed, there is now a
clearance of 215 feet at MHW.
This action is a first step that will make it more
efficient and economical for vessels to reach all
terminals in Newark, Elizabeth, and Staten Island.
Soon, the Port of NY & NJ will be welcoming up to
18,000-TEU vessels to its terminals. That's what
we call delivering the goods.