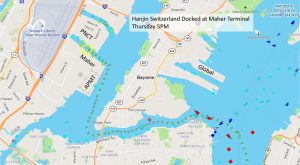 The Hanjin Switzerland Docked at Maher Terminal today.  Maher Terminal offered the below update for shippers expecting cargo on the Switzerland.
To: Maher Terminals Customers
Please be advised, the Hanjin Switzerland will be working at Maher Terminals tonight, 10/13/16, at 1900. The vessel will be partially discharged at Maher Terminals, and will then be transferred to Global Container Terminals (GCT) to complete the discharge. Once the vessel is complete at GCT, any imports discharged at GCT, that are fully released by US Customs, will be placed on barges and sent to Maher Terminals for delivery. Any imports, discharged at GCT, that are not fully released and/or require a US Customs exam will remain at and be delivered from GCT.
For real time container availability information, please check the Maher website or the TIPS website prior to sending drivers to the facility.
Once the Hanjin imports have been delivered, we will be receiving the Hanjin empty containers back to the Main Terminal from "this vessel only". 
Note: Some empty containers will be returned directly to the leasing companies as per their request. Please check the Maher Website prior to returning an empty to the terminal for any special empty delivery instructions.
Thank You,
Maher Terminals Mgmt.