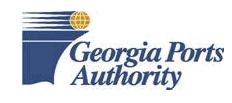 October 6, 2016
Re: Hurricane Matthew Update
To: All Georgia Ports Authority Customers
Due to mandatory evacuation in Garden City, Garden City Terminal gates will close at 1500 for inbound traffic and FULL SHUT DOWN AT1600
The Georgia Ports Authority continues preparations for heavy rains and sustained storm force winds.
Please be advised, Port of Brunswick terminals are closed to all work activities until Monday, 10/10/2016.
Port of Savannah terminals will be closed to truck traffic on Friday, 10/7/2016, and Saturday, 10/8/2016, at Garden City Terminal and Ocean Terminal.
The U.S. Coast Guard will restrict vessel arrival and departure transits this evening, 10/6/2016.
Vessel activity is expected to resume at 1300 Sunday, 10/9/2016. (Please be advised, this is an estimate only, subject to change due to storm conditions.)
GPA may resume normal operations on Monday, 10/10/2016, if conditions allow. Garden City Terminal will resume container truck gate operations 0600 Monday, 10/10/2016, through all interchange gates, if conditions allow.
The port is monitoring developments to ensure safety of personnel, equipment and cargo.
Please share this information with your business partners and colleagues.
Stay safe!
Client Relations Center
Georgia Ports Authority
P. O. Box 2406
Savannah, Georgia 31402
Office: 912-963-5526
Fax: 912-963-5522
E-mail: customerservice@gaports.com