On June 6th,  the association hosted our 30th annual members meeting. We were pleased that many of your were able to attend in person. This year we had a group of excellent speakers including:
• Mario O. Moreno, Senior Economist Global Trade, IHS Maritime & Trade
• Steven Rothberg, Partner, Mercator International
• Anthony B. Hatch, Principal, ABH Consulting
• Ronald A. Oleynik, Partner, Holland & Knight
• Patrick McGrath, Senior Vice President – Trade Management, Hapag Lloyd
• Hardy Pearson, Senior Vice-President – Area Midwest and Northeast, Hapag Lloyd
• Michael A. Khouri, Acting Chairman, Federal Maritime Commission
• John Driscoll, Director of Maritime, Port of Oakland
• Thomas Wyville, Regional Manager, Port of Savannah
• Jean JC Chartrand, Strategic Sales, DP World Vancouver / Prince Rupert
• Laura A. Otenti Partner Posternak Blankstein & Lund LLP.
We were especially pleased to be able to host the team from Hapag Lloyd including Chief Commercial Officer Thorsten Haeser and President of Americas Wolfgang Freese. The Gemini meeting was the first official event of the firm following its combination with UASC. Attendees also benefited from an address by Mr. Michael Khouri the Acting Chairman of the Federal Maritime Commision. This is the second year in a row that the top official from the Federal Maritime Commision has addressed our membership on the role of the federal government in ocean shipping regulation.
Members received a strong outline of the economic and policy infrastructure drivers affecting our industry with updates on trade economics, carrier alliances, intermodal and trade policy as well as a detailed look at port infrastructure on both the east and west coast by our ports panel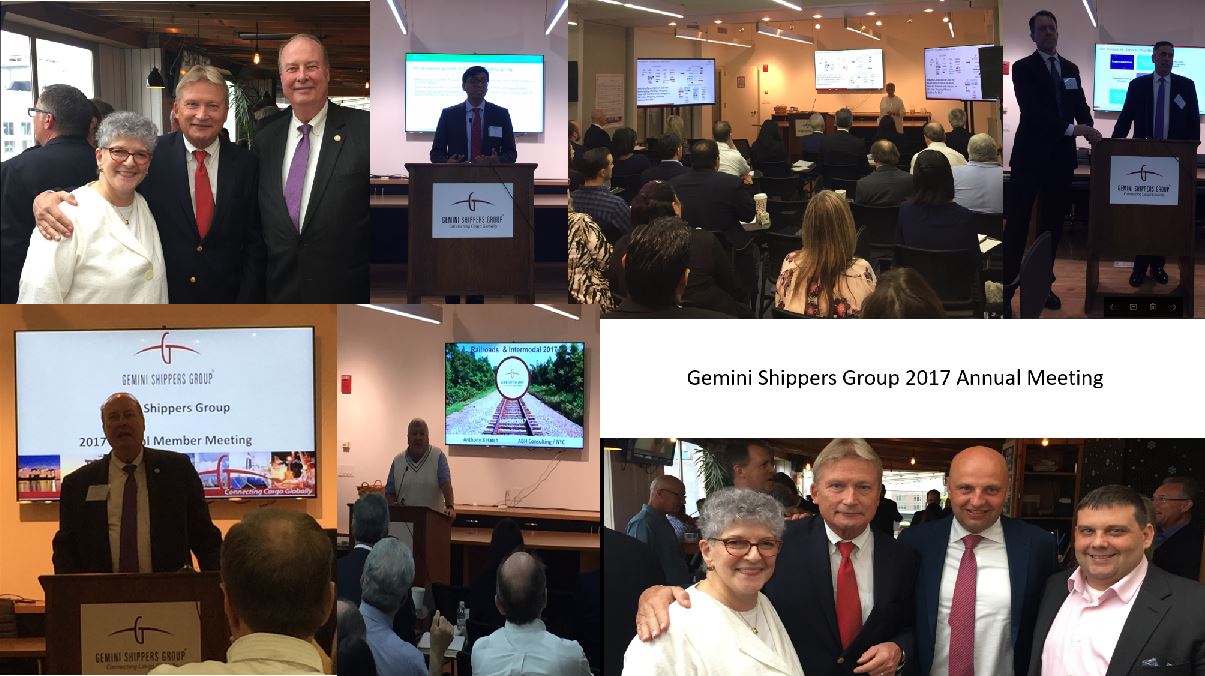 Following our meeting members were treated to a great rooftop cocktail party to socialize and network with fellow members and our speakers.
A number of our presenters have agreed to make their presentation available for members. Presentations can be found on the members page of the Gemini member site under General Association News.
Thanks to all who were able to make it. For those unable to do so, please see the presentations, and we hope to see you at the 2018 meeting
On behalf of the entire Gemini team, thanks as always for your support.
Sara Mayes
President and CEO